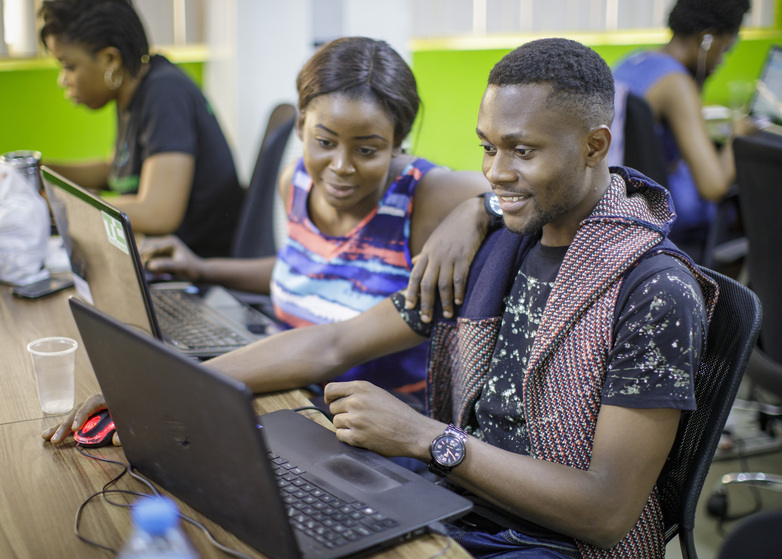 Greening and advancing e-commerce in Ghana, Kenya, Nigeria, and Rwanda
This challenge is in phase: Understand target
How might we offer reliable, affordable and sustainable delivery solutions for MSMEs and e-commerce platforms to enhance customer experience in Ghana, Kenya, Nigeria and Rwanda?
The e-commerce sector has witnessed tremendous growth over the last years. Despite positive effects on the economic development of Africa, the uptake in e-commerce also bears the risk of negatively impacting the environment. This presents a challenge at the intersection of digital trade and the green economic transformation. Advancing this transformation requires tailor-made solutions which can be provided by the private sector. 
Understand
Carbon emissions resulting from reverse logistics and last mile delivery are rising as popularity in e-commerce increases globally. The emergence of a more environmentally conscious consumer presents a unique opportunity that offers lucrative business solutions that not only mitigate  environmental effects but also solve societal problems in an effective way.​
E-commerce has been growing steadily in Kenya, Rwanda, Ghana, and Nigeria over the past few years, driven by factors such as increasing internet penetration, mobile phone usage, and a growing middle class. Each country has its own unique e-commerce landscape, challenges, and opportunities. Kenya has been one of the leaders in East Africa's e-commerce market. The country's well-developed mobile money infrastructure has played a significant role in stimulating online transactions. In fact, high taxation of fossil fuels creates an opening for the adoption of greener and more affordable solutions for last mile delivery. Rwanda's e-commerce landscape is growing steadily, although it may be somewhat smaller compared to other African countries. The government has increasingly taken steps to promote digital innovation and entrepreneurship. However, as in many African countries, Rwanda grapples with challenges in building trust among consumers, improving logistics and delivery systems, and expanding internet. Ghana's e-commerce market has seen significant growth in recent years, with the emergence of various e-commerce platforms. The government has shown interest in supporting the digital economy, and efforts have been made to improve the country's digital infrastructure. Nigeria has one of the most developed e-commerce markets in Africa. The country has a large population and a growing middle class, both of which are driving e-commerce growth. The country however faces challenges such as logistics, payment infrastructure, and consumer trust, but the market is dynamic and evolving.
Business Opportunities
Become a participant
Apply for the 22nd lab of tomorrow programme to develop & implement new business solutions for greening and advancing e-commerce in Kenya, Ghana, Nigeria, and Rwanda!
Applications are being evaluated on a rolling basis.
Application deadline:
October 6, 2023
Dates for Innovation Sprint:
6-10 November 2023